NAKSEONJAE: KOREAN ROYAL CUISINE

Exhibition, 2014


This exhibition celebrated the great tradition of the Korean Royal Cuisine of the Joseon Dynasty.
The show took place in Nakseonjae, the residential palace where purveyors of the cuisine were in service until the 1980s.

The design goal of the project was to create a design system that could seamlessly meld with the historical
architecture, both in visuals and in materials, to reflect the feel of a festival day during the Joseon dynasty.

The Institute of Korean Royal Cuisine came to my studio for the project because of our in-depth understanding
of Korean traditions and craftsmanship, and our multidisciplinary and research-based approach.



Design
Ordinary Lab | Jieun Kim, Hyein You, Eunyoung Kim

Role
Art Direction, Graphic Design, Project Managing, Exhibition Design

Client
The Institute of Korean Royal Cuisine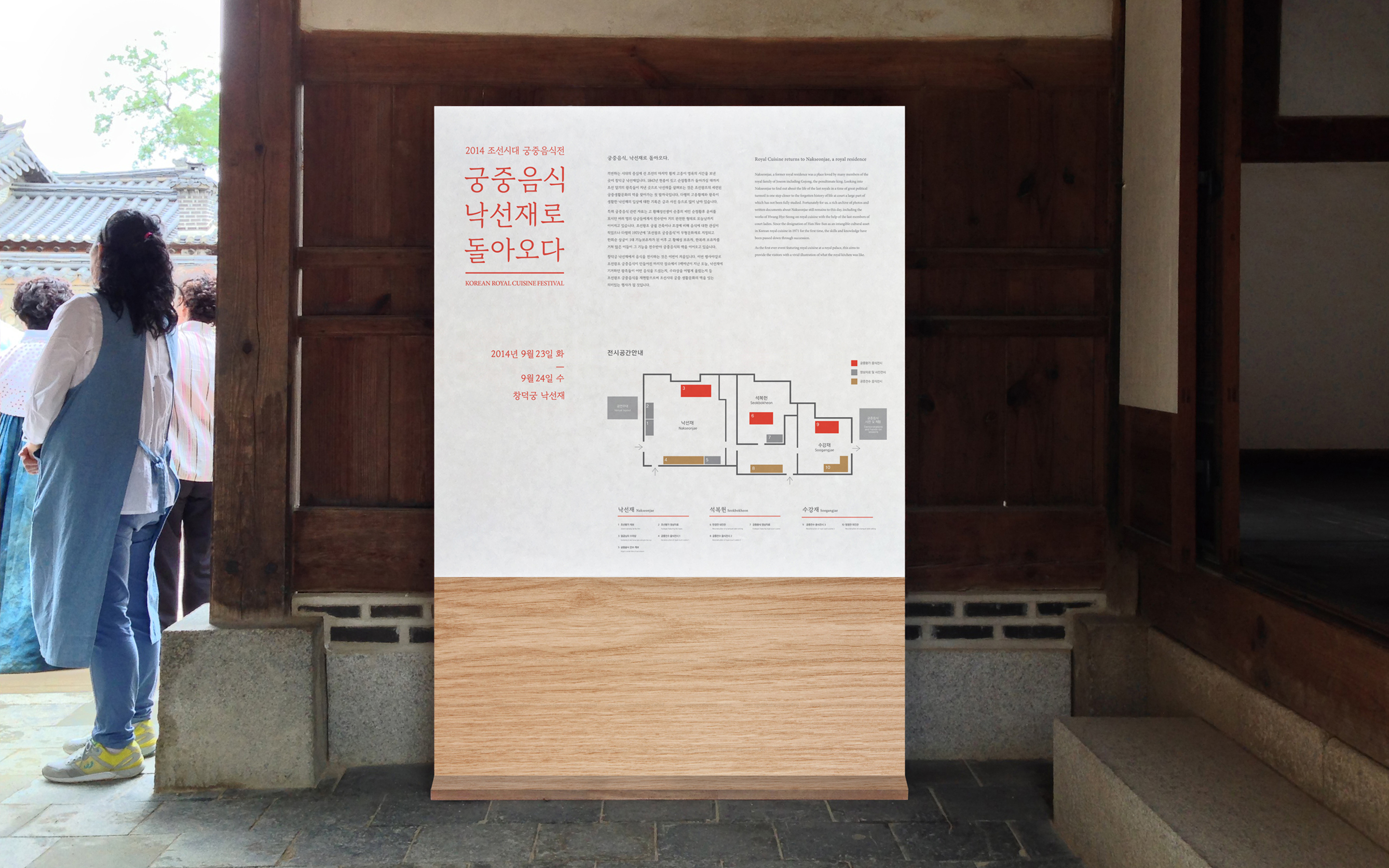 It was the first big public exhibit to be held at this Unesco world heritage site. The palace holds great historical
and cultural significance and as such, there were many restrictions in hosting such a large exhibition.
I designed this freestanding signage system because nothing was allowed to be attached to anything in the palace,
and the materials of wood and traditional craft paper were also selected according to historical standards.
The aesthetic of the exhibition was deeply founded in tradi-tional themes and artifacts,
but also required a contemporary reinterpretation of traditional values. For example, the color palette uses
the traditional royal colors of red, jade, and blue. This base palette was then toned down in saturation
and tweaked to harmonize with the colors and architectural history of the palace.